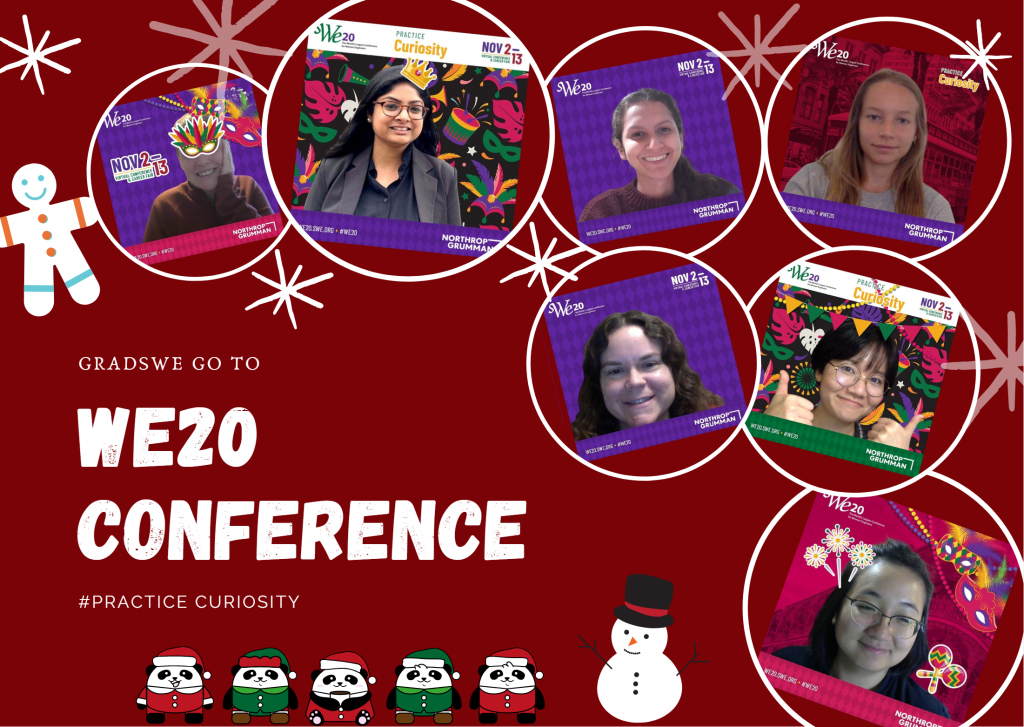 The world's largest conference for women in engineering, hosted by the Society of Women Engineers, took place virtually November 2-13, 2020. GradSWE UofT, a student club for women-identifying graduate students in engineering at the University of Toronto, received funding to send students to this important conference. We sent 42 masters & phd students to this virtual conference, and we used Zoom and Slack to connect over the conference throughout. We hosted 3 Zoom calls for networking, meeting each other, and sharing our learnings from the conference. We also discussed the conference sessions through a Slack channel. The Slack channel had 46 members: members from the graduate student community and SWE members from across Canada also attending the conference as well.
Find out about our top A-Ha moment and what We20 attendees  learned from this excellent conference [Here]
GradSWE UofT Mentorship Program
GradSWE UofT Mentorship Program
We are thrilled to introduce our pilot mentorship program connecting undergraduate engineering students with UofT graduate students from a range of engineering disciplines. The program will run between November 2020 and April 2021 providing students with the opportunity to gain insight into female engineering graduate students' experiences within academia and industry. Mentors and mentees will connect virtually and also during facilitated events occurring every two months.
If this program interests you, please fill out the survey form, to help us identify you as a potential mentor and match you with your ideal mentee!
Register link: https://lnkd.in/eMtF-58
Women in Engineering Talk Art (10/23/2020)
Registration link: https://www.eventbrite.ca/e/women-in-engineering-talk-art-tickets-124937574649
Graduate Super Women Engineers are excited to invite you to our first social event of the year, Women in Engineering Talk Art. Please join us on Friday, October 23rd from 2:00-3:30PM for a discussion with U of T engineering alumna and professional artist, Renu Indapurkar, on how arts and engineering influence each other. The discussion will be followed by an acrylic flow tutorial guided by our president, Anupama Sharan.
Please see our Eventbrite page for more details on how to register and receive zoom meeting details. 
Lets learn, paint, and network together!
GradSWE UofT Info session for new and returning students (09/02-09/11)
We welcome all new and returning graduate students to U of T for the 2020-21 academic year. It has a been a roller coaster of a year and we are here to make your graduate engineering experience at U of T amazing and meaningful. Please join us for our online information sessions led by a dedicated team of graduate student volunteers from different engineering programs at U of T. We are happy to answer any questions you might have about navigating school, U of T life and advancing women and minorities in engineering. Volunteers will provide information about our student group, events planned for the year and opportunities to get involved and develop leadership skills. 
Celebrating Women in Engineering:
An Evening of Conversations (03/05/20)
This event is intended to bring together the graduate engineering community, faculty and staff at U of T over an evening of discussion, food, and community building. The event will kick off with an introduction to the Graduate Super Women Engineers (GradSWE) at U of T, followed by a moderated panel discussion where invited panelists will share their stories in the field of engineering and beyond. The panel has an exciting lineup including some of the biggest names in the faculty of engineering and industry.
The panelists include:
Cristina Amon – Dean Emerita of Engineering; Professor, Mechanical and Industrial Engineering
Yu-Ling Cheng – Distinguished Professor in Centre for Global Engineering; Lead, Reinvent Toilet Challenge by Gates Foundation
Marianne Hatzopoulou – Canada Research Chair in Transport and Air Quality; Professor, Civil and Mineral Engineering
Naomi Matsuura – Professor, Material Science and Institute of Biomaterials and Biomedical Engineering