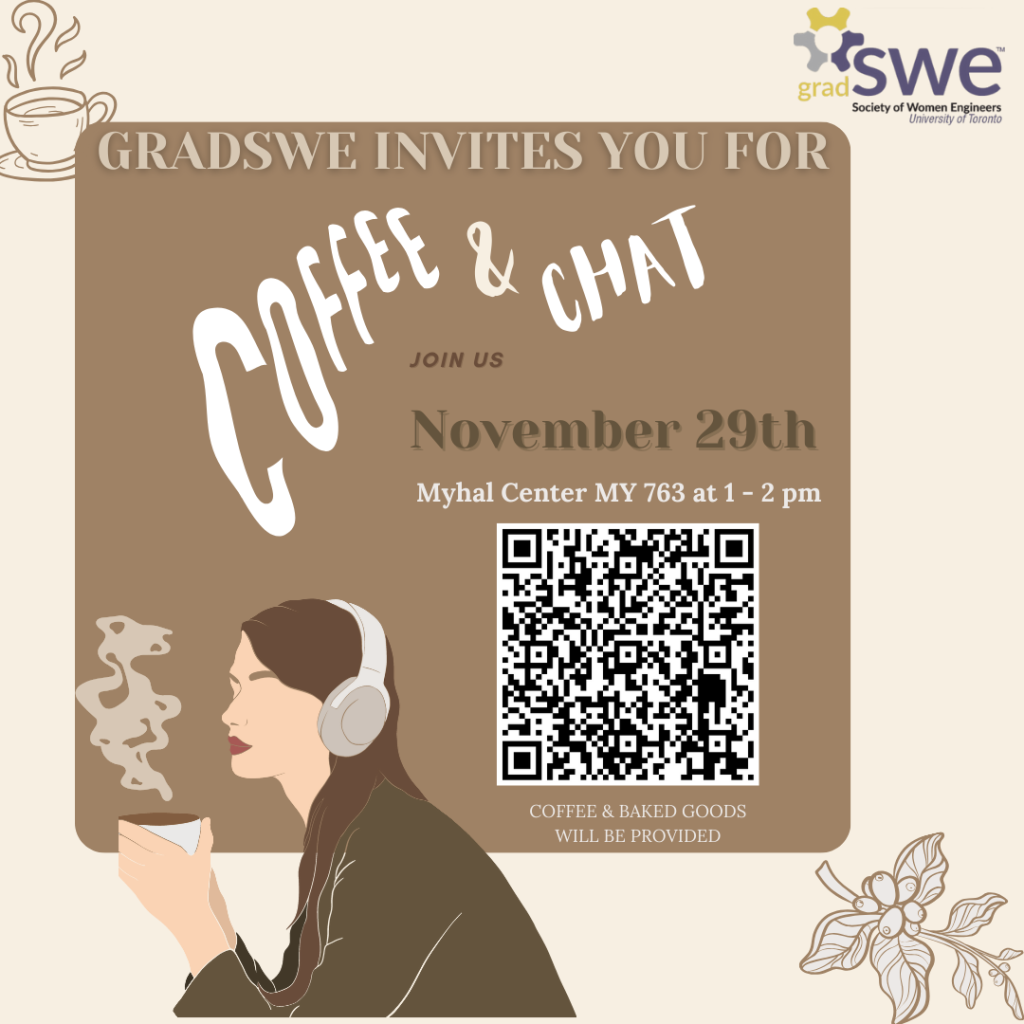 GradSWE Coffee Chat Event
☕️ Join us for a delightful "Coffee Chat" event on November 29th! Whether you're a seasoned GradSWE member or a newcomer, come sip on some coffee, share stories, and make new connections. It's the perfect opportunity to relax, unwind, and build a supportive network within our community.
📅 Date: November 29, 2023
📍 Location: Mayhal Centre MY 763
🕒 Time: 1-2 pm
Let's make this a cozy gathering filled with laughter, great conversations, and, of course, coffee! To ensure we have enough treats for everyone, please register via this FORM. Don't forget to bring your favorite mug!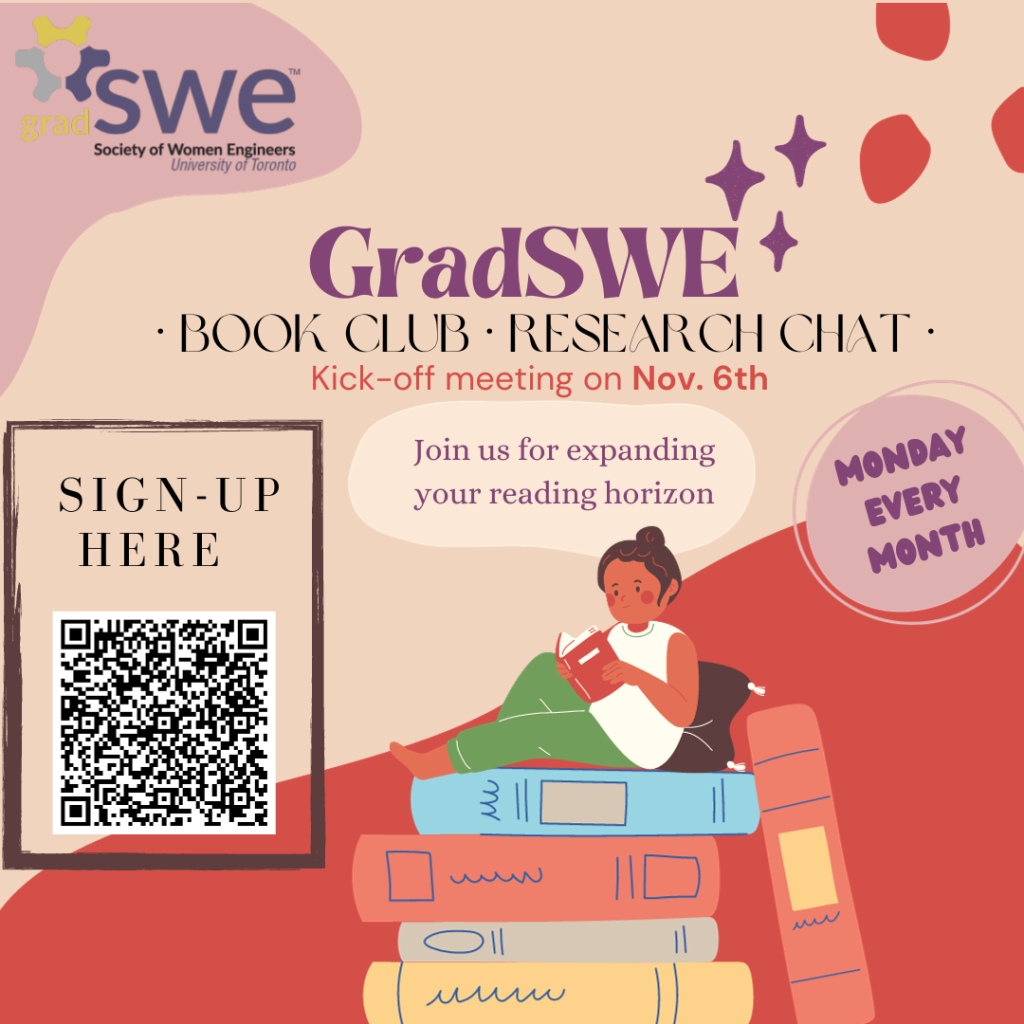 GradSWE Book Club Kick-Off & Research Talk at Prenup 
GradSWE Book Club Kick-Off and Research Talk is happening tomorrow evening, and now is still time to sign up!
Date: November 6th

Time: 6:00 PM (Book Club Kick Off) and 6:30 PM (Research Chat)

Location: Prenup Pub, 191 College St, Toronto, ON M5T 1P9
1)
Book Club Kick Off:
Start on an exciting literary journey! Join us for our first-ever book club session, meet your peers, share your thoughts, and plan out the exciting journey ahead in our upcoming meetings. 
2)
Research Chat:
After the book club kickoff, stay for an informal research chat. Explore your peers' projects, share your own work, and engage in insightful conversations. To keep your energy up, we'll provide shareable food and non-alcoholic drinks.
Prizes Await:
Don't miss the chance to win a captivating book in our raffle! The excitement doesn't stop at knowledge-sharing.
Mark your calendars for an evening of intellect, socializing, and delicious treats. We can't wait to see you there. Sign up HERE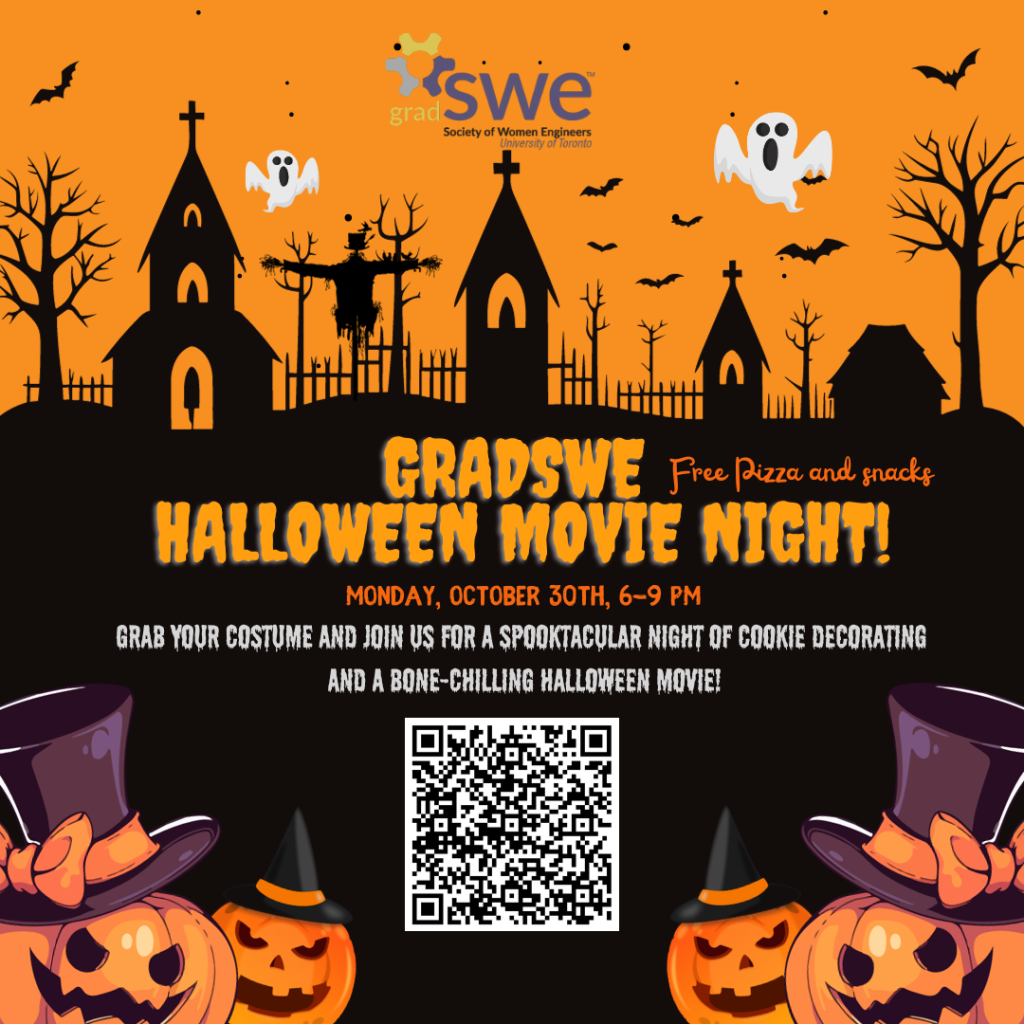 Halloween Movie Night
🎃👻 Join us for a fang-tastic time at the GradSWE Halloween Party! 🍕🍪🎥
Get ready for a spook-tacular night filled with pizza, snacks, cookie decorating, and a themed movie. Here are the chilling details:
📅 Date and Time: Monday, October 30th from 6-9 pm
📍 Location: TBD, somewhere on campus (we'll update you as soon as we book a room!)
Don't miss out on the thrills and chills! Sign up now at Google Form for a ghoulishly good time.
Stay tuned for updates and prepare to have a howling good time. 🦇🕷️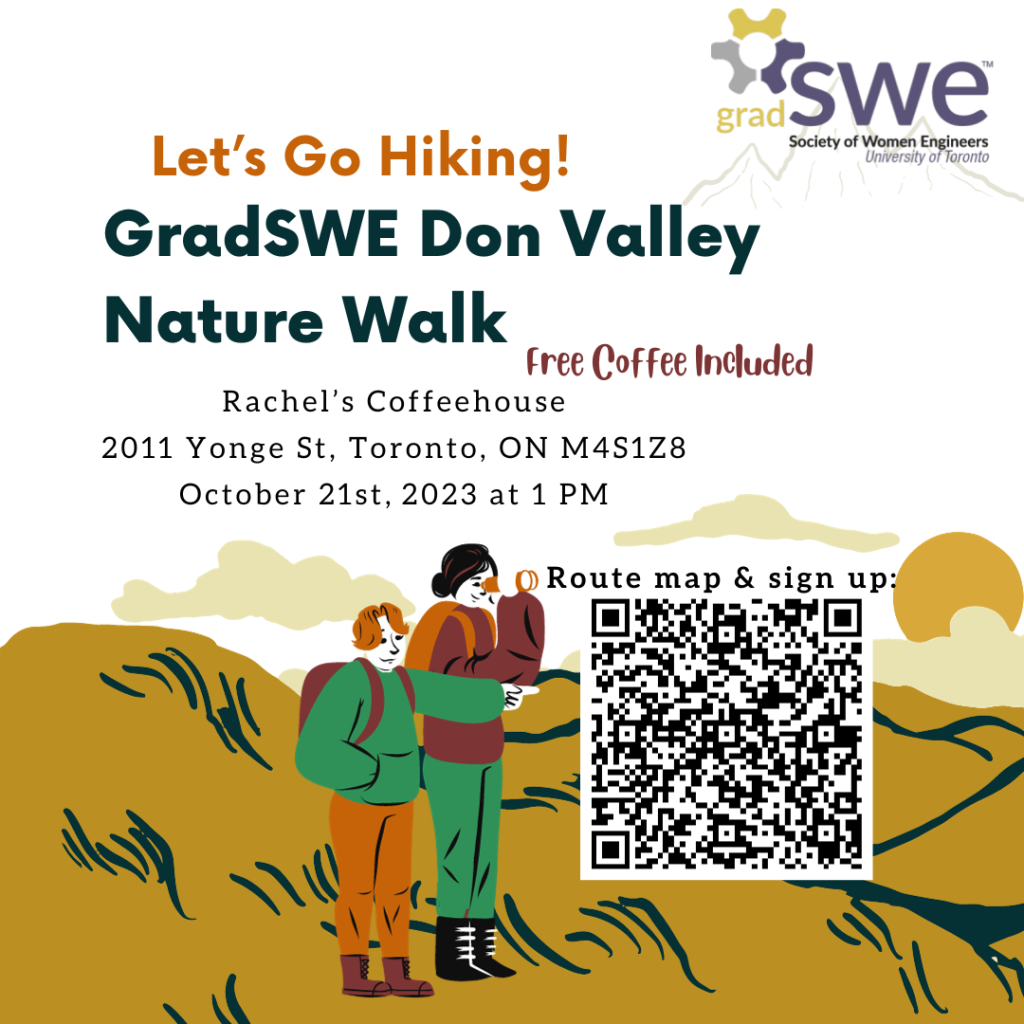 Don Valley Nature Walk
Embrace the autumn air and the vibrant fall colors with GradSWE! We invite you to join us for a delightful guided nature walk through the heart of the city on Saturday, October 21. It's the perfect way to celebrate sweater weather and immerse yourself in the stunning fall scene. 
* Updated Meeting Place: Pilot Coffee Roasters (1 St Clair Ave E, Toronto, ON M4T 2V7) here.  But that's not all! All participants will be treated to a cup of hot coffee or tea on us. So, grab your comfiest sweater, lace up your walking shoes, and get ready for a memorable afternoon surrounded by the beauty of autumn. We can't wait to share this special day with you 🙂 Please sign up with this link!
Start Time: 1 pm (We anticipate finishing between 3-4 pm) Route Map: Explore our new scenic route 
Voyageur Canoe Tour 
A morning of canoeing, a private voyageur canoe tour with Toronto Adventures at Humber River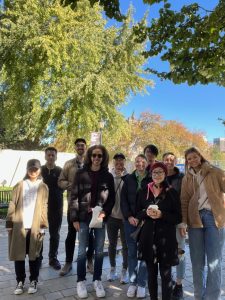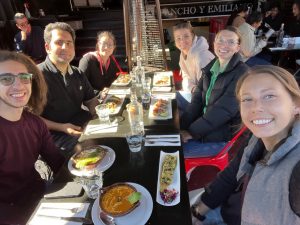 Campus and Downtown Food Tour! October 1st and 2nd

A half-day tour of St. George campus and popular food spots, including Kensington Market, Koreatown and Little Italy!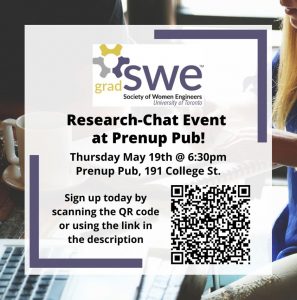 Join us Thursday May 19th for an evening of free food and informal chatting to learn more about your peers' research and to practice sharing your own!
When: May 19th at 6:30pm
Where: Prenup Pub (191 College St)
Register today! Scan the QR code or use this link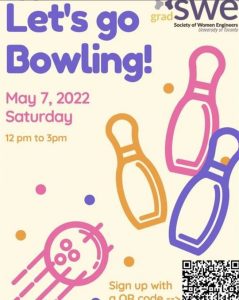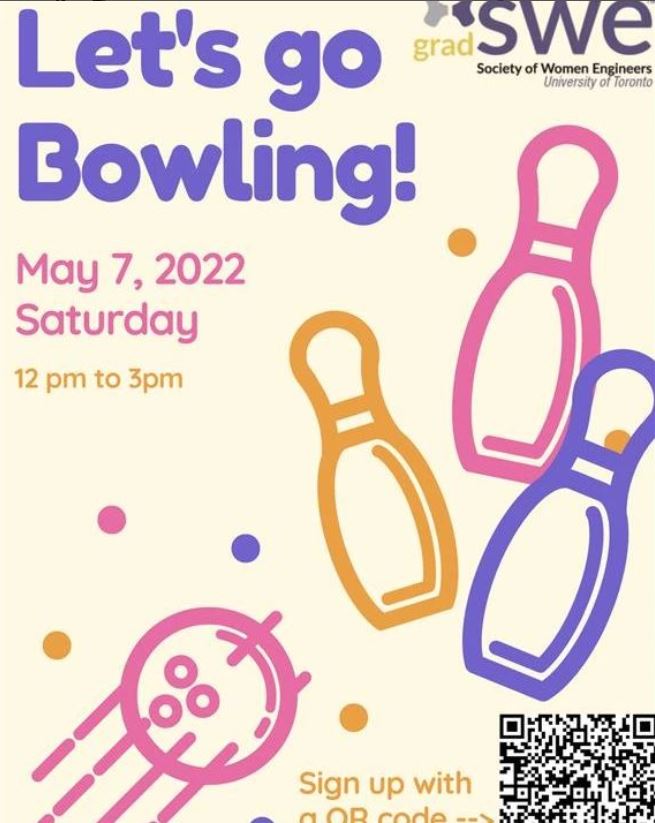 GradSWE Goes Bowling!
Our bowling event is finally happening! To wrap up the Winter 2022 term, we are having a bowling event Saturday, May 7th, from 12-3pm.
Please register with this link.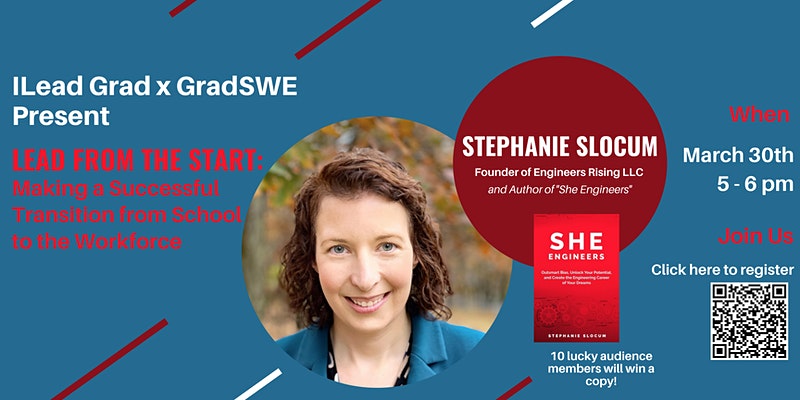 Lead From the Start: Making a Successful Transition from School to the Workforce
March 30th, 5PM – 6PM EST
Click here to register
What does it take to successfully transition from a student into the engineering workforce? How can you set yourself up for an accelerated path into leadership? Learn what it takes to be a successful engineer, pitfalls to avoid, and practical takeaways that you can apply to accelerate your unique success path. Based on Stephanie Slocum's 15+ years of first-hand private industry experience as a woman engineer, as well as research and interviews with traditional and non-traditional leaders, you'll leave this interactive presentation experience inspired, invigorated, and ready to confidently step into the next stage of your career.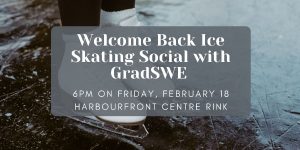 GradSWE Goes Skating!
To celebrate the start of the new semester, we'll be heading to the Harbourfront Centre skating rink (235 Queens Quay W) for an evening of ice skating. We'll be starting at 6PM and afterwards we will head to a nearby coffee shop for warm beverages ☕ 

The cost of any skate rentals and a beverage will be covered by GradSWE. 

All levels of skating experience are welcome 🙂
When: Friday, February 18th at 6PM
Where: Harbourfront Centre Rink
Sign up here
Holiday Coffee Chat | December 14th, 6PM EST Register here
It's that time of the year so get your holiday spirit ready! SWE Toronto and GradSWE UofT are inviting you to our Holiday Coffee Chat on December 14th at 6 pm EST. You will learn more about SWE affiliates across Canada, connect with fellow SWE members, chat about topics you are interested in, and most importantly, have a fun and relaxing time. The first ten people who
register
(and attend the event) will each receive a $20 Uber Eats gift card. At the end of the session, one raffle winner will receive a fun Holiday Basket shipped to your address! (Psst… we also have prizes ready for the best holiday themed attires or Zoom background!) During registration, you will have the opportunity to rank multiple chat topics, including work-life balance, parenting, your field of work/study, and more, so we can arrange the breakout rooms to best accommodate everyone's interest.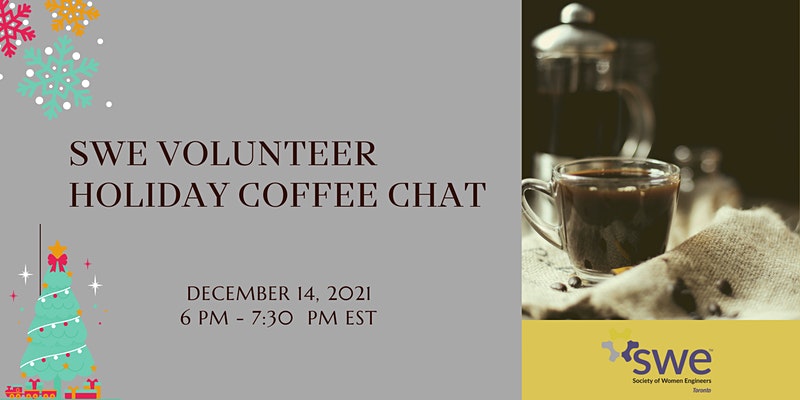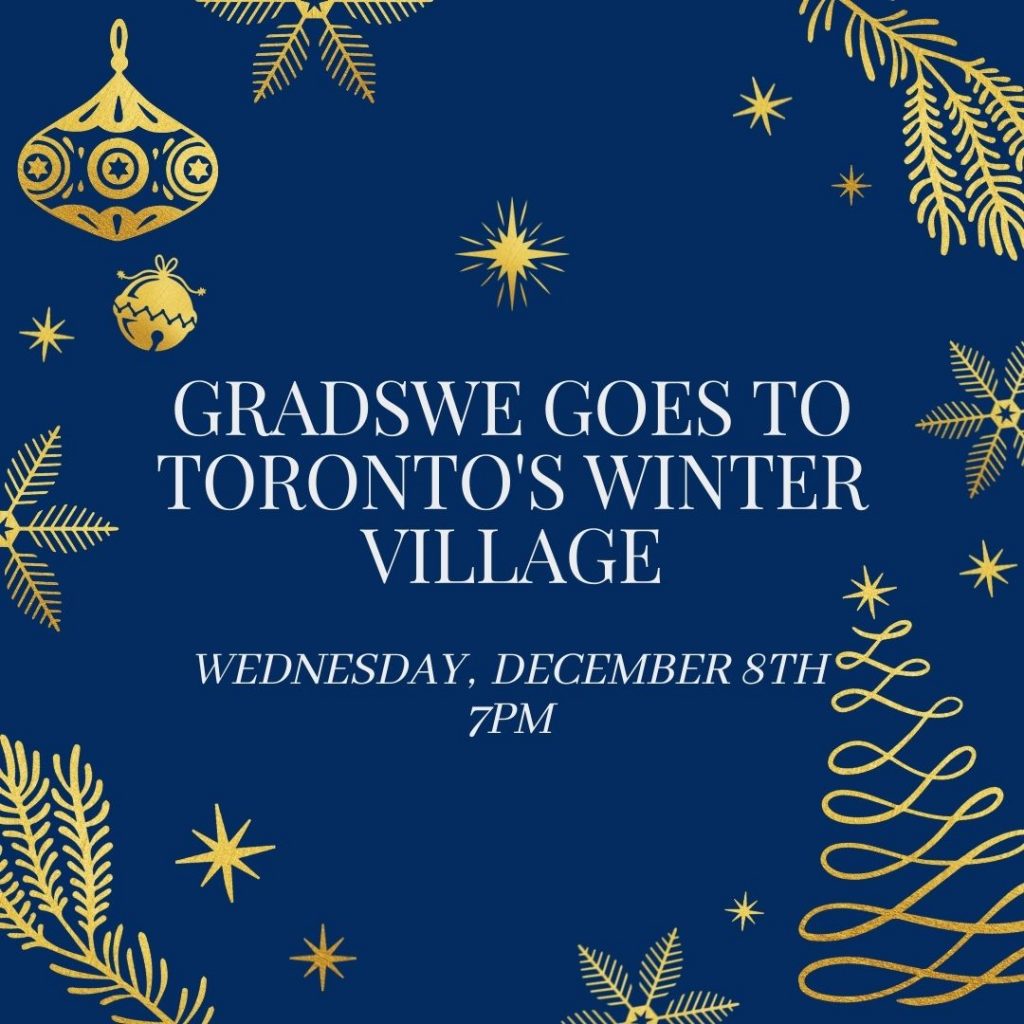 GradSWE Goes to Toronto's Winter Village
December 8th at 7pm
The winter holidays are coming up soon which means it's time for Toronto's annual Winter Village at the Distillery District! Join GradSWE on December 8th at 7pm to explore the Distillery District's seasonal lights & shopping and enjoy a hot beverage on us! Please email kelsey.smyth@mail.utoronto.ca if you plan to attend.
Please note that as per the Winter Village guidelines you must "present proof of full COVID-19 vaccination alongside government-issued identification" to gain entry. Read here for more information about the Winter Village.