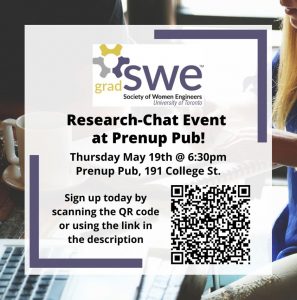 Join us Thursday May 19th for an evening of free food and informal chatting to learn more about your peers' research and to practice sharing your own!
When: May 19th at 6:30pm
Where: Prenup Pub (191 College St)
Register today! Scan the QR code or use this link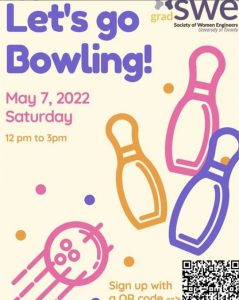 GradSWE Goes Bowling!
Our bowling event is finally happening! To wrap up the Winter 2022 term, we are having a bowling event Saturday, May 7th, from 12-3pm.
Please register with this link.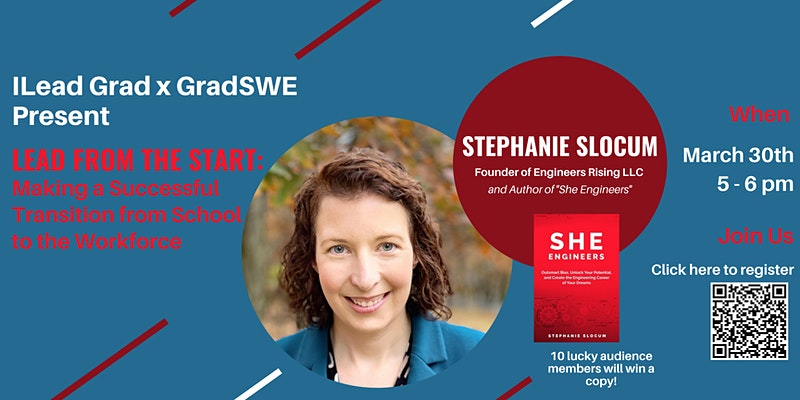 Lead From the Start: Making a Successful Transition from School to the Workforce
March 30th, 5PM – 6PM EST
Click here to register
What does it take to successfully transition from a student into the engineering workforce? How can you set yourself up for an accelerated path into leadership? Learn what it takes to be a successful engineer, pitfalls to avoid, and practical takeaways that you can apply to accelerate your unique success path. Based on Stephanie Slocum's 15+ years of first-hand private industry experience as a woman engineer, as well as research and interviews with traditional and non-traditional leaders, you'll leave this interactive presentation experience inspired, invigorated, and ready to confidently step into the next stage of your career.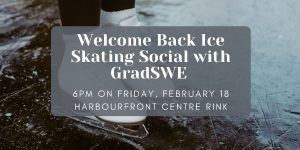 GradSWE Goes Skating!
To celebrate the start of the new semester, we'll be heading to the Harbourfront Centre skating rink (235 Queens Quay W) for an evening of ice skating. We'll be starting at 6PM and afterwards we will head to a nearby coffee shop for warm beverages ☕ 

The cost of any skate rentals and a beverage will be covered by GradSWE. 

All levels of skating experience are welcome 🙂
When: Friday, February 18th at 6PM
Where: Harbourfront Centre Rink
Sign up here
Holiday Coffee Chat | December 14th, 6PM EST Register here
It's that time of the year so get your holiday spirit ready! SWE Toronto and GradSWE UofT are inviting you to our Holiday Coffee Chat on December 14th at 6 pm EST. You will learn more about SWE affiliates across Canada, connect with fellow SWE members, chat about topics you are interested in, and most importantly, have a fun and relaxing time. The first ten people who
register
(and attend the event) will each receive a $20 Uber Eats gift card. At the end of the session, one raffle winner will receive a fun Holiday Basket shipped to your address! (Psst… we also have prizes ready for the best holiday themed attires or Zoom background!) During registration, you will have the opportunity to rank multiple chat topics, including work-life balance, parenting, your field of work/study, and more, so we can arrange the breakout rooms to best accommodate everyone's interest.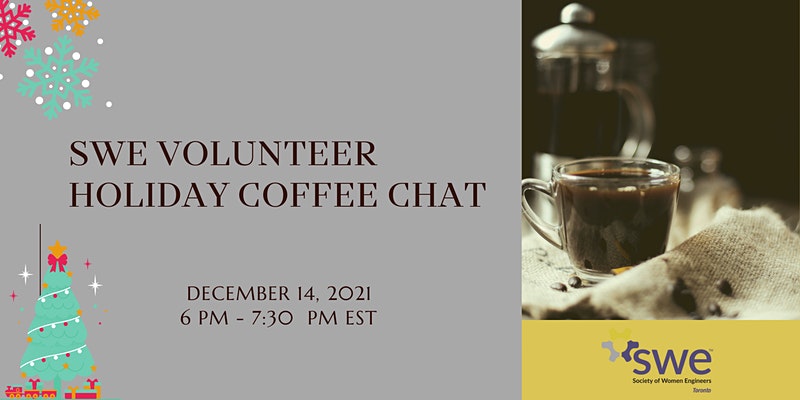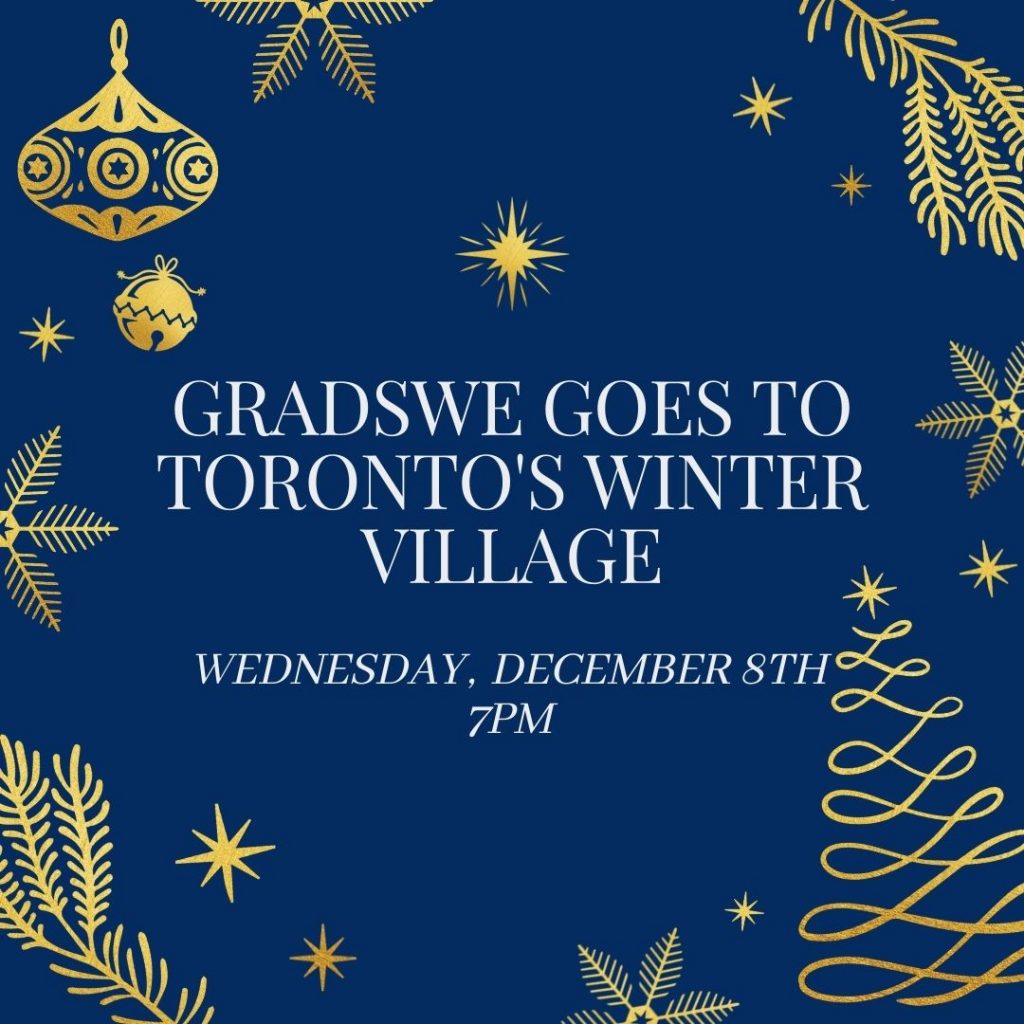 GradSWE Goes to Toronto's Winter Village
December 8th at 7pm
The winter holidays are coming up soon which means it's time for Toronto's annual Winter Village at the Distillery District! Join GradSWE on December 8th at 7pm to explore the Distillery District's seasonal lights & shopping and enjoy a hot beverage on us! Please email kelsey.smyth@mail.utoronto.ca if you plan to attend.
Please note that as per the Winter Village guidelines you must "present proof of full COVID-19 vaccination alongside government-issued identification" to gain entry. Read here for more information about the Winter Village.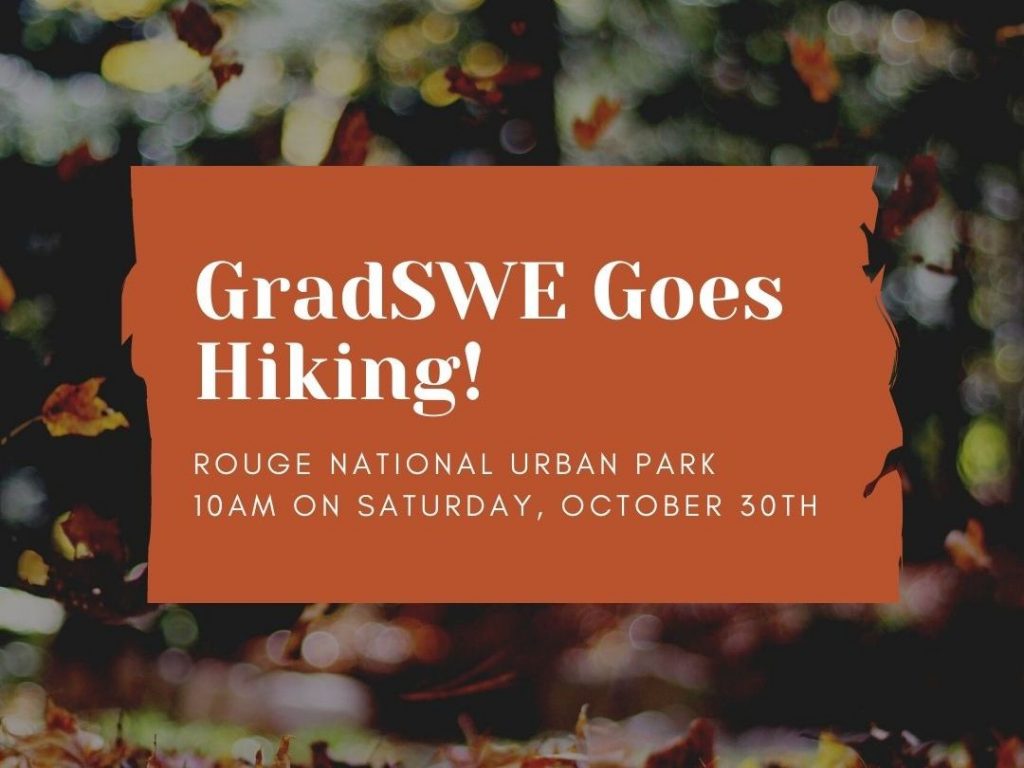 GradSWE Goes Hiking at Rouge Park!
10am on Saturday, October 30th
Register here.

Join GradSWE for a mini getaway hike at Rouge Park this coming Saturday, Oct 30th! Rouge park is a national urban park with lots of hiking trails for us to explore (and it's also where you'll find the Toronto zoo). The park is located in Scarborough and connected to downtown TO via the TTC.
UofT + Toronto Food Adventures with GradSWE
Saturday, October 16th and Sunday, October 17th
Register here.

Join seasoned GradSWEsters Katya and Anupama for a day of fun, food and exploring. We are excited to host you for a guided tour of campus and downtown, with food recommendations and communal take-out picnics along the way! We will start the day bright and early and explore campus while sipping coffee and chomping some hand held breakfast snacks, explore the best (and student-budget friendly!) food options in Chinatown and Kensington gathering for lunch together after and then head down to water front exploring the city on way and later on the beautiful waterfront. So grab your running/comfy shoes, (comfy pants too as we will be eating to our hearts content :P) and join us!
Self-nominations now open for GradSWE Executive Elections Apply Now [Link]
Do you want to assume leadership in our amazing group? Want to be directly involved in programming and networking with the faculty, student groups, and EDI initiatives within the Faculty of Applied Science and Engineering? Then an executive position with GradSWE is the best way forward!
The nomination form is opened here and will be closed by June 25th. You can nominate yourself for more than one role for the following position:
President (Requirement: Former exec position holder or active volunteer experience in the past year) – 1 position 
VP Communications – 2 positions 
VP Finance – 1 position 
VP Social – 1 position 
VP Learning and development – 1 position 
VP external outreach – 1 position 
Check out the position descriptions here and fill out GradSWE Executive Nomination Form once you are ready. If you have any questions, please feel free to reach out to us at gradsweuoft@gmail.com.
June 18, 2021. GradSWE Moves had the first of it's summer series GradSWE Bikes Around. On June 18, members biked from to the waterfront from campus.
'Spring's Here!' Research Coffee Chats
March 31, 2021. This event was an informal chance to learn about each other's really neat research. GradSWE members shared their research topics with people in and outside of their fields and about all the amazing ideas people are working on.
"Launch your entrepreneurship career!" Event
March 11, 2021. We had a huge blast organizing the first-ever "Launch your entrepreneurship career!" event with our partners at WISE and TandemLaunch. There were great conversations with the amazing founders, staff representatives from TandemLaunch and U of T entrepreneurship team. The panel spoke about the importance of diversity and representation in the entrepreneurial world and shared their inspiring journeys with the participants. They shared the important role TandemLaunch played in de-risking disruptive technological solutions through their strong training and support program for future founders. Later, in more intimate discussions in the breakout rooms, participants learnt about the important and deliberate steps one can take as a graduate student to have a strong start in the startup world, including but not limited to, building meaningful networks with your research group and collaborators, spending time to hone one's entrepreneurial skills with the training offered at the university and identifying partners or co-founders with complementary skills. The event concluded with reflections in the main room. If you missed out on the event but want to get in touch with our partners at TandemLaunch who are actively looking for graduate students for their Entrepreneur-in-residence startup program, please send us your contact information here. We have also made a post-event resources list that you might want to check out here. Lastly, to learn more about U of T training resources for entrepreneurs check out the entrepreneurship library or the iCUBE program at UTM.
Picture a Scientist Panel
February 11, 2021. We had an amazing time organizing the reflective panel discussion on Picture a Scientist documentary with the Chemical Engineering Graduate Students' Association and the Centre for Applied Bioscience and Bioengineering at the University of Toronto. The panel was attended by over 50 people, including students, staff and faculty at the University of Toronto and everyone contributed to an insightful and actionable discussion. Some key takeaways that emerged:
1. Supporting women and minority community leaders in their roles and helping share the burden for action towards equity by giving value to work done by them which is often invisible, via active allyship.
2. Collecting data on pervasive bias that might exist with the university and using those insights to implement policy changes.
3. Providing means to disclose discrimination and harassment, free of fear of persecution.
We hope this event leaves people with important thoughts to enact on  equity, inclusion, and diversity in our daily lives and have important discussions with those closest to us!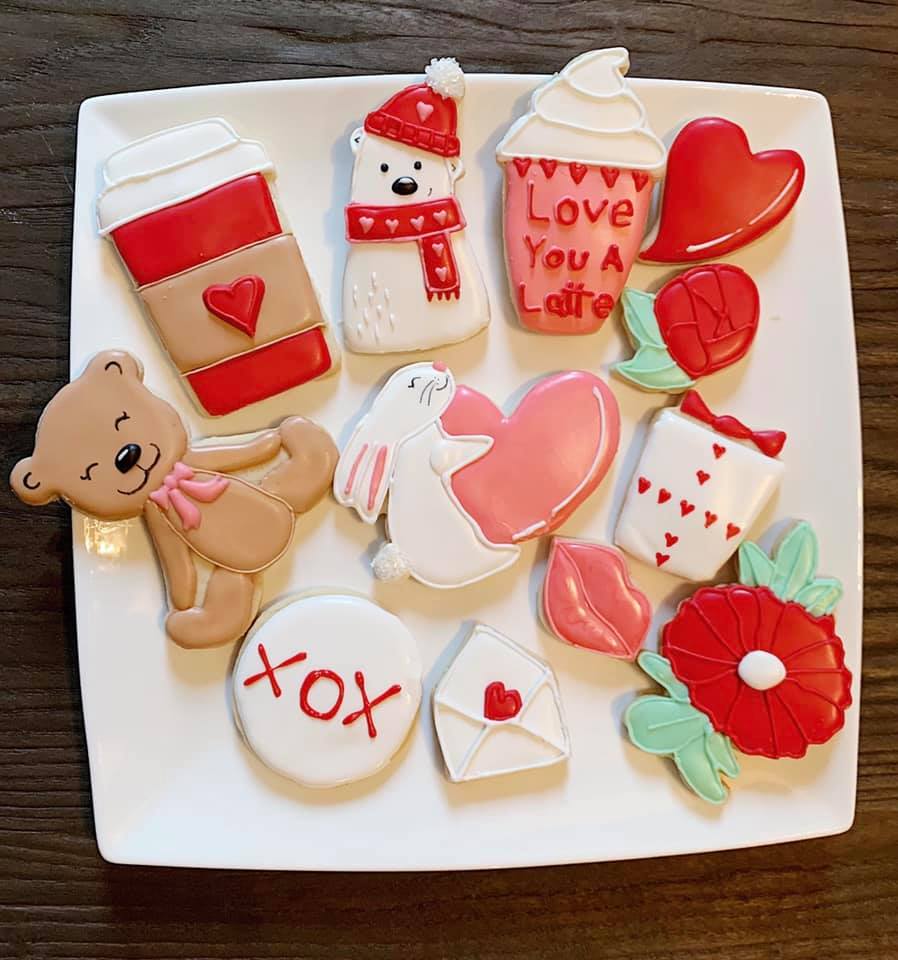 GradSWE UofT February Cookie Decorating Social
February 21, 2021. GradSWE celebrated GALentine's day with a cookie social on Sunday, February 21.  Members gathered online and decorated together with some *light* instruction provided by fellow GradSWEsters.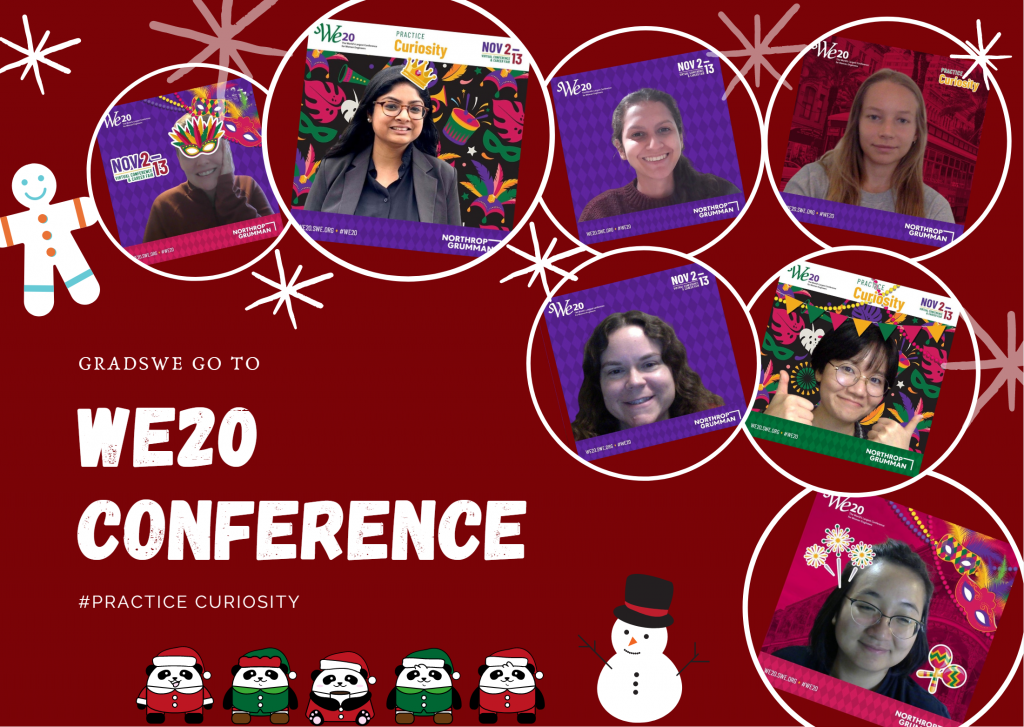 November 2-13, 2020. The world's largest conference for women in engineering, hosted by the Society of Women Engineers, took place virtually November 2-13, 2020. GradSWE UofT, a student club for women-identifying graduate students in engineering at the University of Toronto, received funding to send students to this important conference. We sent 42 masters & phd students to this virtual conference, and we used Zoom and Slack to connect over the conference throughout. We hosted 3 Zoom calls for networking, meeting each other, and sharing our learnings from the conference. We also discussed the conference sessions through a Slack channel. The Slack channel had 46 members: members from the graduate student community and SWE members from across Canada also attending the conference as well.
Find out about our top A-Ha moment and what We20 attendees learned from this excellent conference [Here]
GradSWE UofT Mentorship Program
November 2020 to April 2021. We are thrilled to introduce our pilot mentorship program connecting undergraduate engineering students with UofT graduate students from a range of engineering disciplines. The program will run between November 2020 and April 2021 providing students with the opportunity to gain insight into female engineering graduate students' experiences within academia and industry. Mentors and mentees will connect virtually and also during facilitated events occurring every two months.
If this program interests you, please fill out the survey form, to help us identify you as a potential mentor and match you with your ideal mentee!
Register link: https://lnkd.in/eMtF-58
Women in Engineering Talk Art
October 23, 2020. Graduate Super Women Engineers held the social event Women in Engineering Talk Art. The event included a discussion with U of T engineering alumna and professional artist, Renu Indapurkar, on how arts and engineering influence each other. The discussion was followed by an acrylic flow tutorial guided by GradSWE president Anupama Sharan.
Celebrating Women in Engineering:
An Evening of Conversations
March 5, 2020. This event brought together members of the graduate engineering community, faculty and staff at U of T for an evening of discussion, food, and community building. The event kicked off with an introduction to the Graduate Super Women Engineers (GradSWE) at U of T, followed by a moderated panel discussion where invited panelists shared their stories in the field of engineering and beyond. The panel had an exciting lineup including some of the biggest names in the faculty of engineering and industry.
The panelists included:
Cristina Amon – Dean Emerita of Engineering; Professor, Mechanical and Industrial Engineering
Yu-Ling Cheng – Distinguished Professor in Centre for Global Engineering; Lead, Reinvent Toilet Challenge by Gates Foundation
Marianne Hatzopoulou – Canada Research Chair in Transport and Air Quality; Professor, Civil and Mineral Engineering
Naomi Matsuura – Professor, Material Science and Institute of Biomaterials and Biomedical Engineering